The Warren Yurt
Go off grid and completely submerge in this luxury accommodation
Set within vast woodlands and nestled on the edge of Ashdown forest ensures endless exploring.
Apple Pie Wood burner, ideal for cooking pizza
A short drive to Ashdown Forest and Tunbridge Wells
Set within woodlands with a magical feel, enabling ultimate privacy.
This beautifully designed Yurt has been hand crafted from sustainable materials with elegant steam-bent ribs ensuring a sturdy structure. The simplicity of the engineering creates an extremely eye-pleasing feature.
The Warren Yurt is a wonderfully welcoming bright space that sleeps two so is perfect for that couples escape to rugged Sussex.
With a rustic charm that makes you feel a world away from everyday life The Warren Yurt has been thoughtfully furnished to give it that traditional character throughout.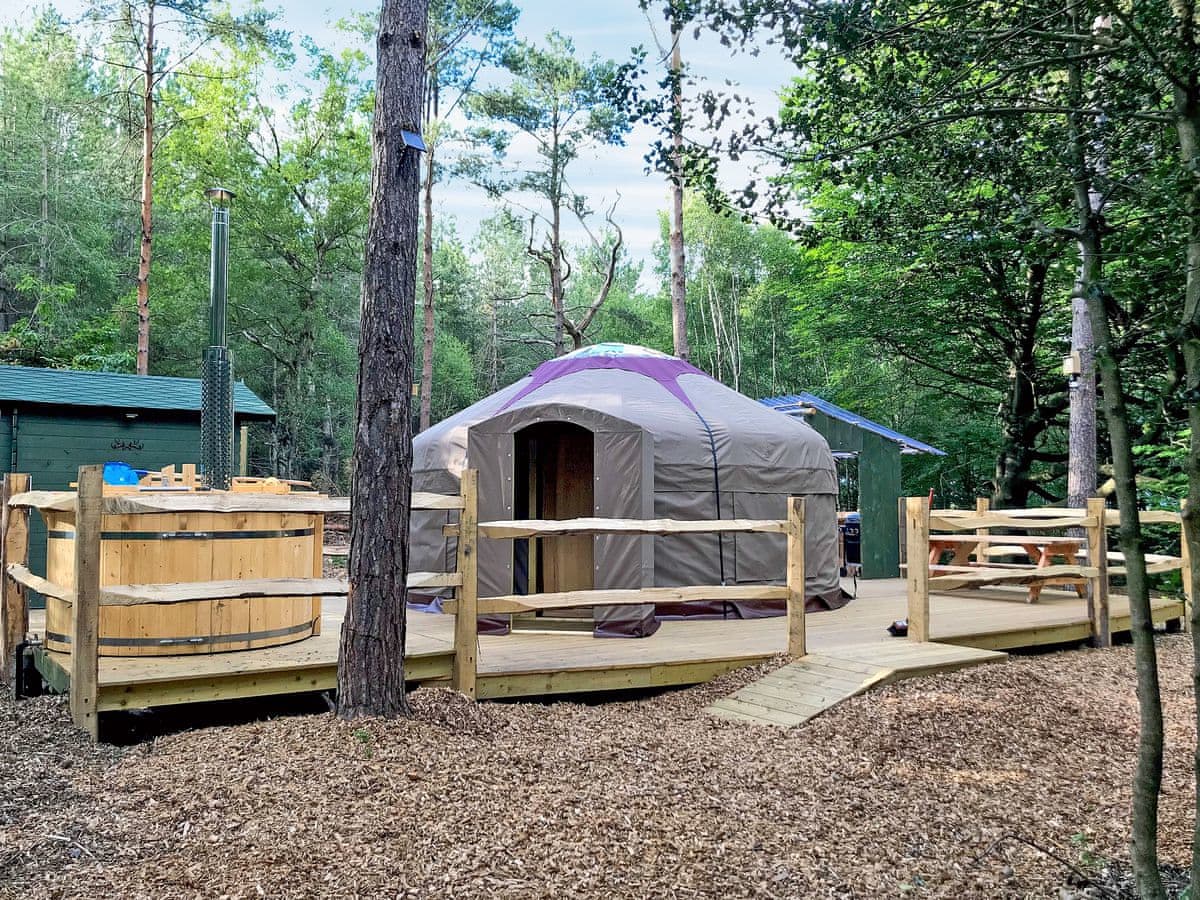 ---
Hidden deep in a natural woodland
The Warren Yurt is located within a 750-acre park called the Crowborough Warren Estate just a stone's throw from the famous Ashdown Forrest.
Glorious woodlands enable a wealth of wildlife to thrive and it is not uncommon to see deer wandering past which is a real spectacle. With the sun pouring through the trees and the sounds of birds and nature in the background it creates a relaxing ambiance and lets you truly become one with nature. To keep the adventure going this rural location is perfect for trying something different and truly unique.
Nearby towns and attractions
For a more urban approach Tunbridge Wells is just down the road from cinemas restaurants shopping and much more.
For history and culture enthusiasts there are a myriad of places to visit within a 45-minute drive including Scotney Castle Chartwell Home of Churchill Michelham Priory and Gardens and Knole Park where you can amble through the grounds and admire this wonderful example of Tudor architecture.
Beach 25 miles; shop 3 miles pub and restaurant 3¼ miles.
Amazing outdoor experiences
The perfect weekend getaway from it all – combine your stay in this beautiful yurt with our amazing activities here at Go Wild At The Warren.
There is an amazing shooting range on site where you can try out the latest air pistols rifles and military style weapons. There is even an RPG rocket propelled grenade launcher firing blank rounds that you can have try Robin Hood style archery lessons and many more activities make for guaranteed fun and are sure to make your holiday a memorable one.
It's really easy, just book the yurt then drop me a message with your dates and then add your experiences on the website normally with the same dates.