Give Robin Hood a run for his money!
Become a skilled and confident archer with a superb archery day in Sussex. Taught by a qualified Archery GB coach you'll learn essential archery techniques and skills and become a skilled archer with all equipment included and no previous experience is required. You will have a fantastic time!
Located in 750 acres of stunning Sussex woodland in a picturesque purpose-built woodland camp. You will be taught how to shoot by experts and will no doubt be amazed how far you can come in two or three hours with expert tuition.
This is a fantastically fun day out for children, families and adults, and it also makes a wonderfully unique experience gift for anyone who's ever wanted to have a go at this ancient and thrilling sport.
A totally exhilarating experience!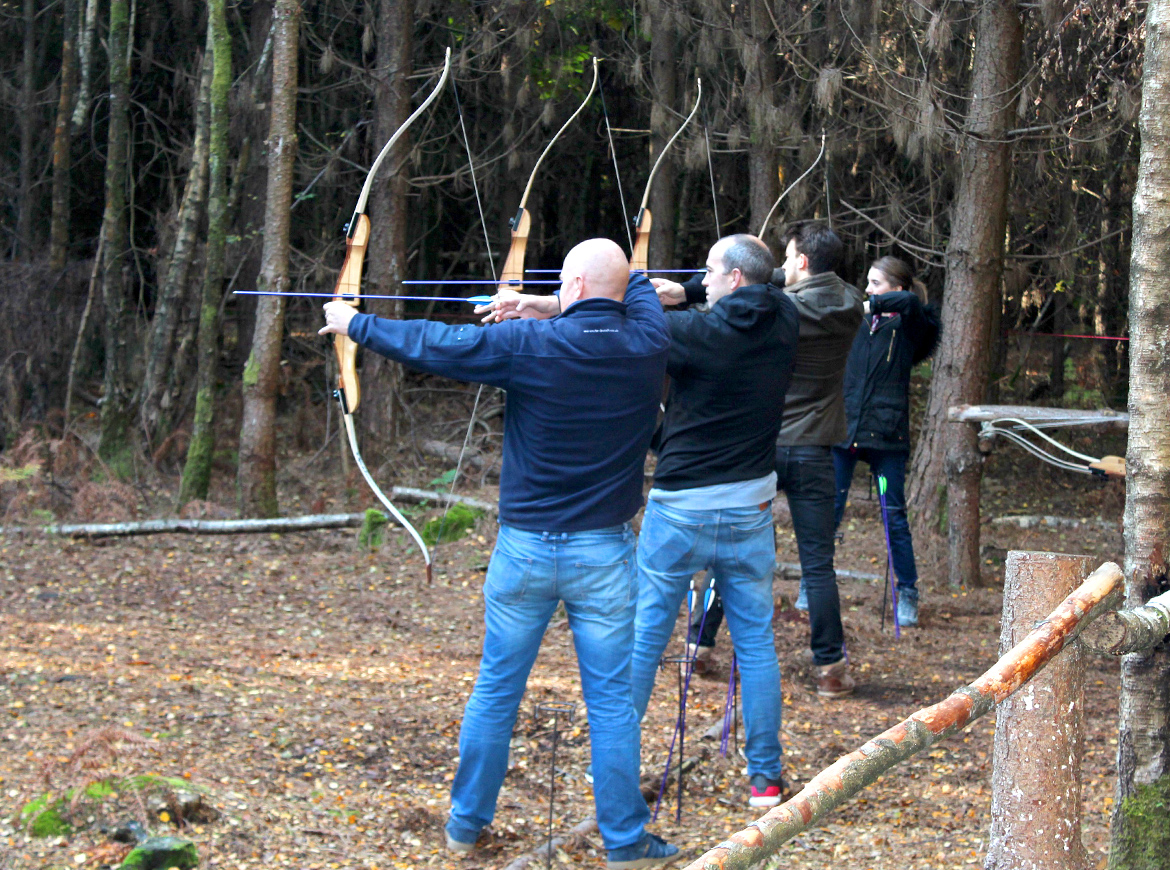 Shooting experiences or combine them for an amazing day out!
If you'd like to combine your archery experience with shooting, see our Combined experiences. RPG, with and without Mortar, can be added to all archery and shooting experiences.
Archery checklist
From just £69 per person
Duration approximately 2 hours for the Discover Archery Experience
We're open Monday – Sunday throughout the year
Private tuition, stag & hen celebrations are available
No previous archery experience is required
Age restriction 10 years upwards
Recent archery
Excellent time had with an archery course. Garry was a fantastic instructor, extremely helpful and friendly. The experience is set in a beautiful forest bringing a whole new element compared with a standard archery range. Great atmosphere and a great time. Highly recommended experience
Very good coaching. Great location. I really enjoyed the morning's archery. Especially welcomed the log fire.
Archery experience details
Individuals
Families
Discounts are available, applied at time of checkout
Minimum 1 adult with 2 children
Vouchers
We have gift vouchers available for all archery experiences and courses! Gift vouchers are valid for 10 months from the date of purchase.
Registration for the Discover Archery Day begins at 10:00 for the morning session and 13:00 14:00 for the afternoon session.
Once you've been welcomed and registered, you will be taken to the purpose-built archery area in woodland where you will learn all about archery, how to handle a bow and arrow, and the important skills needed to become a skilled archer.
You will be taught by an Archery GB qualified, friendly archer and the lessons will take place around an awesome base camp with an open camp fire in the style of Robin Hood and his merry men!
You will spend the rest of the session honing your technique and becoming a smooth, confident archer!
You can also combine archery with other activities on the same day such as RPG/Mortar and Shooting
Be aware your day will be in woodland, so it may be muddy.
In the winter months you will probably need to bring some warm clothes such as…
Hat, jacket and gloves (not mittens).
It is advisable to bring a water-proof coat at any time of year.
Wear suitable shoes for outdoor woodland conditions.
Your day out begins around our Robin Hood style base camp where the roaring camp fire and 750 acres of beautiful forest welcomes you.
After a short safety talk you'll get some expert tuition on shooting a bow from various positions! and then it's off to our purpose built archery courses. These are not just ordinary archery courses!!! there's some very interesting, exciting and cheeky ones to shoot at.
After completing the archery challenges, it's then time to relax with some traditional Mead and plenty of ale and drinks around the camp fire (please ask about this option).
Feel free to bring your own drinks, but please bear in mind it's archery first then drinks after!
Priced at £69 per person (minimum of 2 people) for up to 20 people.
Find out more on our special Stag & Hen page.
Have you got a large group, or birthday party, or just want to have a private day to yourselves? Then why not book a private hire day.
We can arrange barbecue lunch before or after your event or bring your own catering along. You can also have a themed day eg. Robin hood style etc!!
Private days are available on any day throughout the year.
Private one-to-one tuition is £500
Please feel free to give us a call or email to discuss your requirements.