We'll give you that unique stag or hen day you've been searching for!
Special Weapons experience
Heckler and Koch Machine guns, assault rifles, semi-automatic Mp5's, Walther PPK's , sniper rifles, exploding targets, and much more await you.
At our purpose built shooting ranges and rustic refreshment area set in 750 acres of amazing forest you can be assured of an awesome day.
Why not theme your day dressed up as Rambo or swat teams!
Your day begins with a short safety talk, after which you'll have some tuition from an expert marksman. Then it's onto business – where you'll get to shoot everything we have to offer.
After the shooting you can then retire to our fantastic rustic camp, where a roaring camp fire awaits you, along with some serious refreshments. Feel free to bring your own drinks, but please bear in mind it's strictly shooting first then drinks after!
Plus there's also an extra upgrade option available to Special Weapon experience, that will give you loads more ammo and a couple more very special guns!
Due to the current gun laws in the UK we do not offer rim fire or centre fire weapons. Please note that all the weapons used are either air weapons, CO2 operated, Nitrogen operated, electric and spring operated.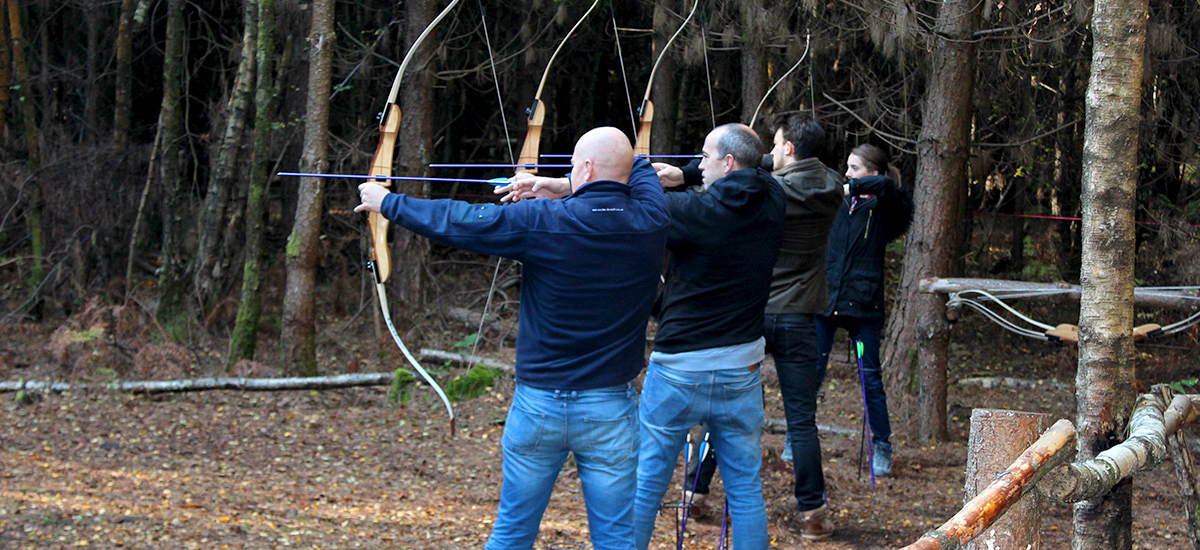 Join us at our Robin Hood style archery camp.
Your day out begins around our Robin Hood style base camp where the roaring camp fire and 750 acres of beautiful forest welcomes you.
After a short safety talk you'll get some expert tuition on shooting a bow from various positions… and then it's off to our purpose built archery courses! These are not just ordinary archery courses – there are some very interesting, exciting and cheeky ones to shoot at.
After completing the archery challenges, it's then time to relax with some traditional Mead and plenty of ale and drinks around the camp fire. Feel free to bring your own drinks, but please bear in mind it's archery first then drinks after!
To round off your day, there's a fun prize for the best dressed and most competent archer.
Stag & Hen checklist
From just
Duration approximately 2 hours for the Special Weapons, Extreme High-Powered Air Rifle and Archery experiences
We're open Wednesday – Sunday throughout the year
No previous archery or shooting experience is required
Age restriction 10 years upwards (this is a stag or hen do right?)
Recent from stags and hens
My partner was sick to death of listening to me go on about my past military life (war story's zzzzzzzzz) so I thought the perfect birthday experience, get some hands on with some pretty authentic weapons.
Julie loved it, a bit phased to start with, she didn't think she would be able to cope, however Gary's first class instruction, guidance and patience helped her to settle in and really get into the whole shooting experience to the point where she managed to take out her sniper target (with added pyrotechnics) her reaction was bliss, I'm still getting ear ache about what a great shot she is!!
What a great afternoon, I can't speak highly enough of Gary, a superb manner, full of knowledge and experience that is shared with his clients in a superb manner, we could have sat and listened to him all afternoon.
If we lived closer we would be visiting every week.
Thank you Gary for a superb afternoon!
P.S. I will get some extra practice in on my grouping boss, a bit embarrassing when the misses comes back with a tighter group!
I bought this for my partner for his birthday and I am so pleased I did as he really enjoyed himself. He has been to shooting ranges before but nothing compared to today, Garry was very professional and very experienced. So pleased I found this experience and would definitely recommend it to others
Upgrade your experience with more ammo!
Just £20 per person
Double ammunition of each pistol
1 × Reactive exploding target (More available at £1 per target, see video)
Double ammunition of the .50Cal Desert Eagle
1 × Magazine of 3 of our machine guns (standard is one machine gun)
Sniper rifle 10 rounds
Simply select this upgrade when you checkout your Special Weapons experience.
Reactive exploding targets
Stag & Hen experience details
Priced Individually
Upgrades
Upgrade is applied at the checkout with Special Weapons
Vouchers
We have gift vouchers available for all our shooting experiences! Gift vouchers are valid for 10 months from the date of purchase.
Registration for the each experience begins at 10:00 for the morning session and 13:00 for the afternoon session. Combined experiences will differ.
Once you've been welcomed and registered, you will be taken to the purpose-built shooting range or archery range.
Both the shooting and archery activities last for approximately one to two hours.
You can also combine this experiences with other activities on the same day such as RPG/Mortar and Archery.
After completing the activity, it's time to relax with some traditional Mead and plenty of ale and drinks around the camp fire (please ask about this option).
Feel free to bring your own drinks, but please bear in mind it's shooting first then drinks after!