We'll give you that unique stag or hen day you've been searching for!
Special Weapons experience
Heckler and Koch Machine guns, assault rifles, semi-automatic Mp5's, Walther PPK's , sniper rifles, exploding targets, and much more await you.
At our purpose built shooting ranges and rustic refreshment area set in 750 acres of amazing forest you can be assured of an awesome day.
Why not theme your day dressed up as Rambo or swat teams!
Your day begins with a short safety talk, after which you'll have some tuition from an expert marksman. Then it's onto business – where you'll get to shoot everything we have to offer.
After the shooting you can then retire to our fantastic rustic camp, where a roaring camp fire awaits you, along with some serious refreshments. Feel free to bring your own drinks, but please bear in mind it's strictly shooting first then drinks after!
Plus there's also an extra upgrade option available to Special Weapon experience, that will give you loads more ammo and a couple more very special guns!
Due to the current gun laws in the UK we do not offer rim fire or centre fire weapons. Please note that all the weapons used are either air weapons, CO2 operated, Nitrogen operated, electric and spring operated.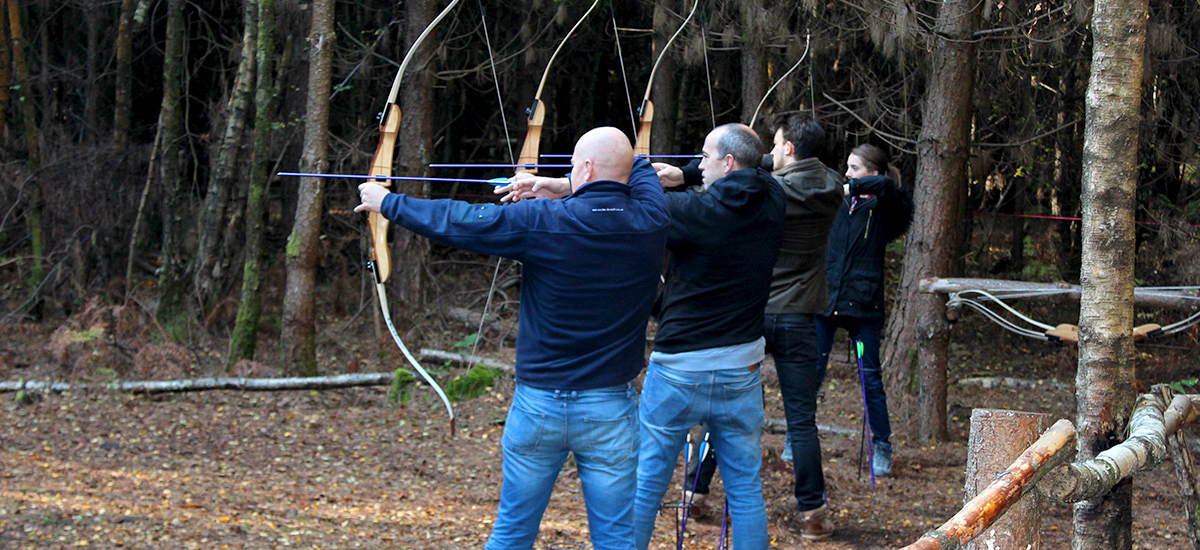 Join us at our Robin Hood style archery camp.
Your day out begins around our Robin Hood style base camp where the roaring camp fire and 750 acres of beautiful forest welcomes you.
After a short safety talk you'll get some expert tuition on shooting a bow from various positions… and then it's off to our purpose built archery courses! These are not just ordinary archery courses – there are some very interesting, exciting and cheeky ones to shoot at.
After completing the archery challenges, it's then time to relax with some traditional Mead and plenty of ale and drinks around the camp fire. Feel free to bring your own drinks, but please bear in mind it's archery first then drinks after!
To round off your day, there's a fun prize for the best dressed and most competent archer.
Stag & Hen checklist
From just
Duration approximately 2 hours for the Special Weapons, Extreme High-Powered Air Rifle and Archery experiences
We're open Wednesday – Sunday throughout the year
No previous archery or shooting experience is required
Age restriction 10 years upwards (this is a stag or hen do right?)
Recent from stags and hens
Upgrade your experience with more ammo!
Just
Double ammunition of each pistol
1 × Reactive exploding target (More available at £1 per target, see video)
Double ammunition of the .50Cal Desert Eagle
1 × Magazine of 3 of our machine guns (standard is one machine gun)
Sniper rifle 10 rounds
Simply select this upgrade when you checkout your Special Weapons experience.
Reactive exploding targets
Stag & Hen experience details
Priced Individually
Special Weapons:
Extreme High-Powered Air Rifle: