An awesome new addition to our hugely popular shooting experiences!
Go Wild has acquired the fantastic Attacksense shooting system.
Attack Sense is a fully automated reactive shooting game. Players compete against each other to hit as many targets as possible within a set time limit. Your next target to shoot will light up, be quick though as once the light is off you've missed your chance.
Attacksense is creating an exciting new way to practise, hone your skills and have fun with friends using Airsoft guns and ammunition. The smart targets connect wirelessly to the Attacksense app, where we can create a huge variety of training simulations, hostage rescue and competitive multi-player games.
Using LED illuminators along with an innovative hit detection sensor, the targets provide an exciting new way to test your reaction time and shooting accuracy.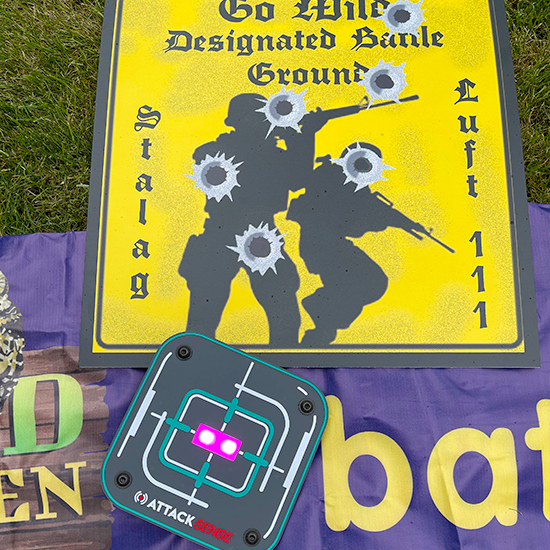 Attacksense targets connect to each other wirelessly, creating a mesh network of targets that can be placed anywhere and in any situation. When hit the targets will bleep, and the next target will illuminate seamlessly.
The targets can operate in any environment up to 1000 square metres. It provides a variety of training scenarios which are fully customisable. There is a bolt action mode which allows for reload times to be built in for sniper rifles and other single shot weapons. Players can compete individually with automatic player ranking, or compete head to head with shooting gallery and duelling modes, all using the shooter ID app.
The shooter ID app can be downloaded onto your smart phone from the app store and used to scan in when you arrive. You can then record your scores each time you visit and view the leader board on our online Combat forest leader board.
Go wild will run competitions throughout the year, and there will be some amazing prizes to be won.
The app provides immediate feedback of hits including missed targets and reaction times, along with "good guy" actions that simulate friendly targets to keep you on your toes. The system records your performance history and provides analysis of improvement.
What weapons do we use?
Go Wild combat forest will use airsoft type weapons. Depending on the scenarios set up you may use a pistol, or assault rifle or both to complete your task.
How long will it last?
The minimum session time will be 30 minutes. You can also book 1 hour slots or more. Each session can have a maximum of 4 people. Sessions will be available throughout the day on weekends from 09.30 to 14.30.
How much will it cost?
The 30 minute session will cost £15 per person.
How many people can play?
The minimum amount of players required to book online is 2. With 4 being the maximum for each session. If you have a larger group you can book 1 hour with a maximum of 8 and so on.
The Go Wild combat forest is making an amazing new addition to our corporate days. Please contact us to discuss your corporate day.
Due to the current gun laws in the UK we do not offer rim fire or centre fire weapons. Please note that all the weapons used are either air weapons, CO2 operated, Nitrogen operated, electric and spring operated.
Combat Forest availability
Combat Forest
-
£15
Duration: 1 hour; morning session.

Related experiences or combine them for an amazing day out!
Special Weapons is available as a stand-alone experience. If you'd like to combine your archery experience with any shooting experience, see our Combined experiences. Mini gun, can be added to all archery and shooting experiences.
Combat Forest checklist
From just £15 per person
Duration approximately 1 hours for the Extreme High-Power Air Rifle
We're open Wednesday – Sunday throughout the year
Private tuition, stag & hen celebrations are available
No previous shooting experience is required
Age restriction 10 years upwards
Recent Combat Forest
You must have 2 approved testimonials to use a rotated display!
Battle Gound experience details
Individuals
Families
Discounts are available, applied at the checkout
Minimum 1 adult with 2 children
Vouchers
We have gift vouchers available for all our shooting experiences! Gift vouchers are valid for 10 months from the date of purchase.
Registration for the Battle Grounds experience begins at 09:00.
Once you've been welcomed and registered, you will be taken to the purpose-built shooting range.
The shooting activity lasts for around one hour
You can also combine this experiences with other activities on the same day such as Special Weapons, Shooting Simulator. RPG/Mortar and Archery.
Photo gallery
Coming soon when we have some nice photos of this experience.